J. Geoffrey Pickering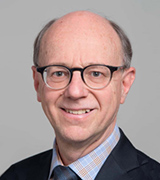 Professor
Departments of Medicine, Biochemistry, and Medical Biophysics
Why I Became a Scientist
I trained as both a cardiologist and a scientist.  I became a clinician-scientist because of my interest and recognition that the problems faced by individuals with heart disease must be addressed not only by existing treatment strategies but by gaining a better understanding of the cell and molecular basis for the disease.
Research Summary
Our work involves the identification of pathways by which cells of the artery wall contribute to vascular disease.  This includes studying the diverse behaviour patterns of the vascular smooth muscle cell.  Our laboratory has international prominence in the field of smooth muscle cell motility and interactions with the extracellular matrix as well as vascular stabilization.
We are currently one of the few groups capable of cloning smooth muscle cells from human arteries and we generated the first, and to date only, smooth muscle cell lines that have the capacity to reversibly convert between a contracting (healthy) and noncontracting (diseased or repairing) state. This has led to the discovery of novel genes involved in vascular remodeling.  Determining the role of these genes in vascular disease is a major direction of the lab.
Another focus is to understand, at a molecular level, how the vascular system ages.  Accelerated aging of blood vessels leads to heart disease and stroke.  We also investigate novel strategies for the development of new blood vessels (angiogenesis).
https://www.ahajournals.org/toc/res/120/12
Research Questions
Can we extend the productive lifespan of vascular cells?
The ability of vascular cells to retain their functions as we age is essential for cardiovascular health.   Avoiding high blood pressure, heart attacks, strokes, and improving recovery following stenting and bypass surgery, requires that vascular cells do not age faster than the rest of the body.  We have discovered novel pathways that slow vascular cell aging.
How do vascular cells communicate with extracellular matrix?  
Heart attacks and strokes develop when the structure of atherosclerotic plaques break down.  Understanding how to develop a stable, collagen-rich extracellular matrix is critical to stabilizing vulnerable plaques and preventing the dire consequences of their rupture.  We are studying novel pathways that improve and stabilize the interactions between cells and collagen.
How can endothelial cells and vascular smooth muscle cells interact to regenerate new blood vessels in diseased hearts?
When hearts become starved of oxygen they attempt to generate new blood vessels.  However this process is often not successful because the new blood vessels are thin-walled and unstable.  By regenerating durable blood vessels that have all cell layers, new strategies for managing heart disease can be developed.
Education
M.D., Faculty of Medicine, Queen's University, Kingston, Ontario
Ph.D., Department of Medical Biophysics, University of Western Ontario, London, Ontario
Specialty Certification (FRCP(C)) in Internal Medicine and Cardiology
Training
Internal Medicine Residency, University of Toronto
Internal Medicine Certification and Fellowship, Royal College of Physicians and Surgeons of Canada
Cardiology Residency, University of Western Ontario
Cardiology Certification by Royal College of Physicians and Surgeons of Canada
Cardiology Research Fellow, University of Western Ontario
Post-Doctoral Training, Tufts University School of Medicine, Boston, MA
Awards
Heart and Stroke Foundation of Ontario / Barnett-Ivey Chair 
Queen's Honour Matriculation Award
Ivan Smith Scholarship
W.W. Near and Susan Near Special Scholarship
Rueben Wells Leonard Penultimate Year Scholarship, Queen's University
Research Fellowship, Canadian Heart Foundation
Detweiler Travel Fellowship, Royal College of Physicians and Surgeons of Canada
Research Fellowship, Medical Research Council of Canada
Young Investigator Award, Canadian Cardiovascular Society
Research Scholarship, Medical Research Council of Canada
Premier's Research Excellence Award
Operating Grants: Heart and Stroke Foundation & Canadian Institutes of Heath Research
University Students' Council Teaching Honour Roll Award of Excellence
Department of Medicine Research Award of Excellence
University of Western Ontario, Faculty of Medicine and Dentistry, Dean's Award of Excellence in Research
Career Investigator Award, Heart and Stroke Foundation of Ontario 
Fellow, American Heart Association
Fellow, American College of Cardiology
Senior Investigator Award, Hypertension Canada
Tony Graham Award for Excellence in Board Service, Heart and Stroke Foundation
Luis G. Melo Memorial Lecturer in Molecular Cardiology, Queen's University
WORLDiscoveries Vanguard Award
Western Alumni of Distinction Award - Excellence in Basic Science Research
Ken Bowman Research Achievement Award, Institute of Cardiovascular Sciences, University of Manitoba
Fellow of the Canadian Academy of Health Sciences (CAHS), Induction Ceremony in Vancouver, BC
Publications
Contact Info
Phone: 519-663-3973
Email: gpickering@robarts.ca
Administrative Assistant, Research
Ilda Moniz
Phone: 519-931-5718
Email: imoniz@robarts.ca

Administrative Assistant, Clinical
Kathy Serafin
Phone: 519-663-5777 ext. 33973
Email: kathy.serafin@lhsc.on.ca