The J. Allyn Taylor International Prize in Medicine

Announcing the 2023 Prize winner, Nabil G. Seidah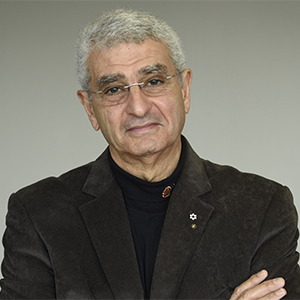 Congratulations to Nabil G. Seidah, PhD, OQ, MRSC, MC, FCAHS, winner of the 2023 J. Allyn Taylor Prize, celebrating innovations in Biotherapeutics for Cardiovascular Disease. Dr. Seidah's work is a sterling example of the ability of science at the highest level to impact the scientific community and citizen health and well-being. 
Dr. Seidah is recognized worldwide as the scientist responsible for discovering and cloning seven of the nine known secretory serine proteases belonging to the proprotein convertases. Proprotein convertases are essential to immune system regulation and have been proposed as therapeutic targets for viral infection, inflammation, hypercholesterolemia, and cancer.
With more than 820 peer-reviewed manuscripts, Dr. Seidah is cited as the most recognized protease expert in Canada and sixth worldwide. As genetics and biopharmaceuticals continue to accelerate as research fields, Dr. Seidah's discoveries will translate into improved therapies and personalized preventative treatments for age-related diseases. 
Across a near 50-year career, Dr. Seidah has been decorated with numerous awards and recognitions. He has been a member of the Order of Quebec since 1997 and of the Order of Canada since 1999, an endowed Tier-1 Canada chair on Precursor Proteolysis since 2003, and is the winner of the 2021 Kuwait Award for Applied Medical Sciences. 
Dr. Seidah is a full professor in the department of Medicine at the Université de Montréal (UdeM), full research professor at the Institut de Recherches Cliniques de Montréal/Montreal Clinical Research Institute (IRCM) and Director of the Biochemical Neuroendocrinology Research Unit within the Center for Cardiometabolic Health at the IRCM. 
About the Prize
Robarts Research Institute and the Schulich School of Medicine & Dentistry proudly present the annual J. Allyn Taylor International Prize in Medicine, one of Canada's most prestigious medical research prizes.
The prize, which consists of a cash award of $40,000, is awarded to one or more individuals who have made significant contributions to basic or clinical research in a specific field.
Nominees include individual scientists or groups of scientists whose initiatives fall within a field of research, determined annually, that reflects a principal area of research at Robarts and the Schulich School of Medicine & Dentistry.
Robarts Research Institute and the Schulich School of Medicine & Dentistry, Western University, strive for research excellence in diverse areas including neuroscience, infectious disease, cancer, imaging, musculoskeletal and cardiovascular disease.
Save the date
Save the date! The J. Allyn Taylor Symposium and the Celebrating Science and Discovery Dinner will be held on Wednesday, November 15, 2023. Registration and event details coming soon.