Concussion Research

Scientists at Robarts Research Institute are looking at concussions from every possible angle by bringing the sports arena to the research lab.
Robarts researchers are part of a collaborative effort to improve diagnosis and treatment of concussion. Using state-of-the-art imaging techniques, blood analyses, cognitive testing and clinical assessments, they are evaluating athletes from the Western University women's rugby team and London bantam-level hockey players to identify concussion biomarkers, establish guidelines for return to play and predict future risk.
Meet the Researchers

Gregory Dekaban, PhD
Scientist
Arthur Brown, PhD
Scientist
A group of scientists at Robarts Research Institute and Western University engage in a series of collaborations on concussion research, with efforts focused on seeking solutions to the problems of sports-related concussion. No other institution in Canada or around the world has the broad array of clinical, neuropathological, neuroimaging, neurochemistry, neuropsychological, sports medicine and engineering expertise under a single "roof" that's required to address the problem of sports-related concussion.
Feature Article: Battling concussion in the locker room and the lab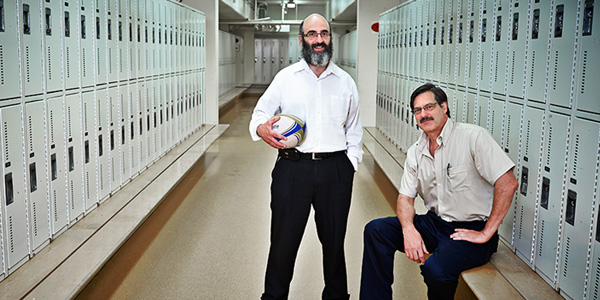 Discover how Arthur and Greg turned one phone call into a city-wide, cross-disciplinary effort to understand concussions from every possible angle. Read the complete Rapport Magazine article online
Video: What is the Future of Concussion Research?
Robarts researchers have shown that progressive damage from concussion happens as a result of the ongoing inflammatory process initiated with the original impact. The good news is that they have identified strategies that stop this damage, which is driven by inflammation. The strategies also regenerate nerve growth and improve long-term outcomes.
The National Hockey League Players' Association (NHLPA) has made a challenge gift of $500,000 to support this innovative concussion research. Learn more about The Concussion Project and how you can get involved.
Event: See the Line

The fourth annual See the Line returns with world-class medical experts and an engaging panel discussion. Join us on August 10, 2016. Visit SEE THE LINE for more information.
Video: Game-changing Concussion Research
Concussion sidelined Natasha's athletic career. Research will help others stay on the field. 
View the complete list of concussion researchers at Robarts Research Institute and Western University