Michael Strong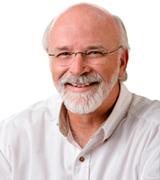 Scientist
Distinguished University Professor
President, Canadian Institutes of Health Research



Why I Became a Scientist
My interest has always been in understanding the nature of brain function and dysfunction, leading ultimately to a career in clinical neurology and neurobiological research.  In my clinical practice, my focus is on the diagnosis and treatment of individuals with amyotrophic lateral sclerosis (ALS, Lou Gehrig's disease).  This focus has led to desire to further understand the inherent biology of motor neurons, and how this biology is disturbed in ALS.  Ultimately, by gaining this understanding we will be better positioned to develop novel treatment strategies for this devastating disorder.
Research Summary
My clinical research focuses on understanding the natural history of ALS, and in particular the occurrence of "non-motor" manifestations of the disease.  Most prominent amongst these are the findings of frontotemporal dysfunction, manifested as a behavioural syndrome, a dysexecutive syndrome, a cognitive syndrome or a florid frontotemporal dementia.  We have been specifically interested in the role of advanced neuroimaging techniques in determining who amongst the ALS population is at risk for one or more of these syndromes.  In the basic research realm, my research is focused on understanding the neuropathological substrate by which these syndromes occur, leading directly to our research on altered microtubule associated tau protein expression in ALS.  Our research into the biology of neurofilament metabolism in ALS has led directly to our discovery of alterations in mRNA metabolism in ALS and the characterization of unique mRNA binding proteins that regulate neurofilament mRNA stability.  We have characterized several of these proteins and demonstrated that the protein binding complex responsible for neurofilament mRNA stability is aberrant in ALS – a novel observation with significant biological and therapeutic implications.
Research Questions
What are the characteristics of frontotemporal lobar dysfunction in ALS?
The presence of a frontotemporal syndrome in ALS is associated with a significant reduction in survivorship and is a critical point of dichotomization of ALS patients when considering therapeutic strategies. Moreover, the finding of such a syndrome fundamentally changes the concept of ALS from being a disorder restricted to the motor neurons, to one in which ALS is a multisystems disorder in which motor neurons are selectively but not exclusively vulnerable.
What is the nature of the neuropathology underlying the frontotemporal syndromes of ALS
We have characterized degenerating neocortical neurons in ALS with cognitive impairment as containing aberrant deposits of tau protein. We have shown that tau in ALS is aberrantly phosphorylated at threonine-175, that this phosphorylation is associated with increased insolubility of tau both ex vivo (extracted from ALS brain tissue) and in vitro (transfected cell lines with pseudo-phosphorylation thr-175 tau), and that this process is associated with an upregulation of GSK-3B expression in tau aggregate containing neurons. In vitro, the formation of tau aggregates can be inhibited with lithium – thus providing a critical therapeutic strategy for treating this specific aspect of ALS.
Is ALS an RNA mediated disorder?
We have observed that ALS-associated mutations in copper/zinc superoxide dismutase give rise to a novel mRNA binding protein that destabilizes NFL mRNA; that 14-3-3 proteins, known to form aggregates in ALS also regulate NFL mRNA stability; and that TDP-43, the most recently discovered ALS associated protein that is mutated in genetic variants of ALS, is also a NFL mRNA binding protein that stabilizes the mRNA transcript but fails to do so in ALS. We have discovered a novel mRNA binding protein (RGNEF) that is aberrantly expressed in ALS and are characterizing a panel of unique miRNAs that are aberrantly expressed in ALS. All of this data points strongly to a novel conceptualization of ALS as a RNA mediated disorder.
Education
Protein Chemistry Methodology, University of Alabama at Birmingham, Dr. G.S.V. Johnson, 1992 (CIBA Foundation Bursar)

Research Fellowship, Laboratory of Central Nervous System Studies, National Institute of Neurological Disorders and Stroke, National Institutes of Health, Bethesda, Maryland, 1987-1990 (Supervisor: Ralph M. Garruto, PhD.; Laboratory Chief: D. Carleton Gajdusek, MD, Nobel Laureate)

Recombinant DNA Methodology, Foundation for Advanced Education in the Sciences, Inc., National Institutes of Health, 1989

Doctor of Medicine, 1978-1982, Queen's University, Kingston, Ontario

Undergraduate Biochemistry 1976-1978, Queen's University
Training
Resident, Neurology, 1984-1987, University of Western Ontario

Resident, Medicine, 1982-1984, University of Western Ontario
Awards
Excellence in Teaching Award, University Students' Council, Western University, 2013

Queen Elizabeth II Diamond Jubilee Medal, 2012

Fellow, Canadian Academy of Health Sciences, 2009

Distinguished University Professor, University of Western Ontario, 2009

Forbes Norris Award, International Alliance of ALS/MND Associations, 2008

Fellow, The American Academy of Neurology, 2008

Faculty Scholar Award, The University of Western Ontario, July 2006-2008

Best Doctors in Canada Listing, 2002 – 2003; 2006-2007; 2007-2008

Excellence in Teaching Award, University Student's Council, University of Western Ontario, 2004, 2005, 2006, 2007, 2008

Sheila Essay Award, American Academy of Neurology, April 2005

Honorary Life Member, ALS Society of Canada

Arthur J. Hudson Chair in ALS Research, 2001-current

Hilda Glassman Award for Clinical Management Research, The ALS Association, 1999

The Premier's Research Excellence Award, 1999

International Who's Who of Professionals listing, 1996

Medical Research Council of Canada Scholar, 1991-1996

CIBA Foundation Symposium Bursary. Aluminum in Biology and Medicine, London, England, 1991

Francis McNaughton Memorial Prize for Clinical Research, Canadian Congress of Neurological Sciences, Halifax, Nova Scotia, 1991

Medical Research Council of Canada Fellowship, 1988-90• Health Research Personnel Development

Program Fellowship, Ontario Ministry of Health, 1988-89 (declined)
Publications
Contact Info
Jessica Jamieson
Executive Assistant to the Dean (Dean's Office)
Phone: 519-661-2111 ext. 89258
Fax: 519-661-3797
Email: jessica.jamieson@schulich.uwo.ca
Sherry Conrad
Clinical Administrative Secretary
Phone: 519-663-3874
Fax: 519-663-3609
Email: sherry.conrad@lhsc.on.ca