Caroline Schild-Poulter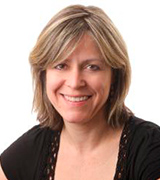 Scientist
Professor
Why I Became a Scientist
What initially drove me to study biology was curiosity. Since I can remember, I always wanted to know "why" things were the way they were. As I advanced in my undergraduate studies, I felt more and more attracted to the field of genetics and molecular biology, as these disciplines seem to have the power to answer fundamental questions about living organisms and help understand and cure illnesses. I currently use molecular biology techniques to understand the first events that lead to the development of cancer.
Research Summary
DNA damage is the underlying cause of genomic instability that leads to cell transformation and the development of cancer. In response to DNA damage, eukaryotic cells trigger the activation of a complex series of pathways to allow repair of the damaged DNA. The activation of apoptosis (cell suicide) is also an essential component of the DNA damage response as it prevents cells with genomic alterations from proliferating to a malignant state. Thus, disruption of either mechanisms that control the repair of DNA lesions or the activation of apoptotic pathways results in genomic instability and contributes to the development of cancer.
My research program focuses on DNA repair/signaling pathways activated by double-stranded DNA breaks- one of the most dangerous forms of DNA damage – with a focus on understanding how DNA gets repaired, and how apoptosis is activated when repair is not completed.
Research Questions
How does RanBPM (Ran-binding protein M) functions to control the activation of apoptosis in response to DNA damage?
How does DNA repair factor Ku functions to repair and signal from a double-stranded DNA break?
Cancer, Ageing
Education
Undergraduate in Biology at the University of Lausanne, Switzerland (Major in Molecular Biology).

Master and PhD at the University of Lausanne. Topic: Mechanisms regulating gene expression. - PhD training included a 2-year stage at the National Institutes of Health, Bethesda, USA.
Training
Posdoctoral Fellow at the Institut de Biologie Moléculaire et Cellulaire du CNRS, Strasbourg, France

Postdoctoral Fellow at the Loeb Research Institute (now part of the Ottawa Health Research Inst – OHRI), Faculty of Medicine, University of Ottawa.

Research Associate at the Ottawa Health Research Institute, Faculty of Medicine, University of Ottawa
Awards
Natural Sciences and Engineering Research Council Canada (NSERC) Discovery Accelerator Award (DAS)

Post-doctoral Fellowship, Medical Research Council of Canada and the Arthritis Society

Post-doctoral Fellowship, Association pour la Recherche sur le Cancer (France)

Fellowship, Centre National de la Recherche Scientifique (France)

Post-doctoral Fellowship, Swiss National Science Foundation (Switzerland)
Publications
Contact Info
Robarts Research Institute
Molecular Medicine: Vascular and Brain Health Group
1151 Richmond St. N.
London, Ontario, N6A 5B7
Phone: 519-663-5777 ext. 24164
FAX: 519-931-5252
Email: cschild-poulter@robarts.ca