Jane Rylett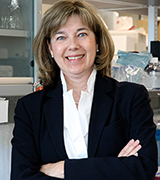 Molecular Medicine Research Group
Why I Became a Scientist
I have always been fascinated by how things are put together and how they work. As an undergraduate student, I developed an interest in changes that occur in cells during aging and the effects on brain function. This provided me with a model to be able to focus my questions around mechanisms involved in neurotransmission and impacts of aging. As a graduate student, I was exposed to Alzheimer disease by becoming involved in new drug trials in Alzheimer patients as a side-line to the cellular – mechanistic studies of my thesis research. This provided me with insight into the human and potential translational aspect of my research. This was a life-changing experience as I saw the struggles of the patients and their caregivers, and the enormous impact that neurodegenerative diseases can have on our aging population. It seemed natural to develop a research program studying the mechanisms by which nerve cells communicate information and the impact that changes that occur in aging and disease have on these processes. I have been very fortunate to be able to combine my passion for investigating these topics with an involvement in outreach activities in the Alzheimer community. This involves volunteer service in local, provincial and national Alzheimer Societies, and serving as an advocate for the value or science and research in finding a cure. I can't imagine a more exciting or fulfilling career choice.
Research Summary
Research in my laboratory focuses on mechanisms regulating chemical communication in the nervous system in health, normal aging and disease. Much of the research that we carry out involves studies of the function of cholinergic neurons. In brain, these neurons project from basal forebrain nuclei to neocortex and hippocampus playing important roles in cognitive processes such as learning and memory, while cholinergic neurons in striatum are involved in movement and motor functions. Degeneration of basal forebrain cholinergic neurons underlie a number of age-related neurological disorders such as Alzheimer disease and some of the cognitive deficits associated with normal aging. Dysfunction of cholinergic neurons in the striatum occurs in movement disorders such as Huntington's chorea, and imbalance between dopaminergic and cholinergic transmission is found in Parkinson's disease and drug-induced disorders such as tardive dyskinesia. Current research interests in my laboratory include the physiological mechanisms controlling events in the synthesis of the neurotransmitter acetylcholine, the mechanisms by which amyloid peptides cause neuron dysfunction and degeneration and the role that growth and trophic factors may play in regulation of the expression of cholinergic neuronal phenotype and in maintenance and survival of these neurons. Specific projects relate to characterization and regulation of the neuronal choline transport protein and enzyme choline acetyltransferase, and investigation of regulation of delivery of choline and metabolism for acetylcholine synthesis. A range of cellular and molecular biological approaches are used in these investigations, including genomics and proteomics, protein trafficking and molecular imaging, protein chemistry, protein-protein interactions and signal transduction.
Research Questions
How do amyloid peptides impact cholinergic neuron function early in mild cognitive impairment and Alzheimer disease? How can this be prevented?
What role does maintaining competent cholinergic neurotransmission play in altering the course of development of mild cognitive impairment and Alzheimer disease?
Do certain forms of cholinergic proteins serve a neuroprotective function by regulating amyloid metabolism?
Education
B.Sc. (Honours) Physiology and Pharmacology, The University of Western Ontario
Ph.D. Pharmacology, The University of Western Ontario
Training
Postdoctoral Fellowship, Department of Pharmacology, University College London, University of London, London, England [Medical Research Council of Canada Fellowship]
Visiting Scientist, Abteilung Neurochemie, Max-Planck-Institute fur Biophysical Chemistry, Gottingen, Germany
Awards
Bell Canada Centennial Fellowship
Medical Research Council Fellowship
J.B. Collip Medal for Medical Research
Rubinoff Scholarship in Geriatrics
Ontario Ministry of Health Career Scientist Award
European Molecular Biology Organization Fellowship
Claude P. Beaubien Award for Research in Alzheimer Disease
AltaPharm Senior Scientist Award from the Pharmacological Society of Canada
Dean's Award of Excellence in Research, Schulich School of Medicine & Dentistry, University of Western Ontario
Queen Elizabeth II Golden Jubilee Medal [Governor General of Canada]
Distinguished University Professor
Fellow, Canadian Academy of Health Scientists
Publications
Contact Info
Phone: 519-931-5777 ext. 24078
Email: jane.rylett@schulich.uwo.ca