Michael Rieder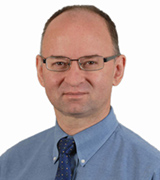 Scientist
CIHR-GSK Chair in Paediatric Clinical Pharmacology
Departments of Paediatrics, Physiology & Pharmacology and Medicine
Why I Became a Scientist
Growing up in a family of pharmacists I soon appreciated that while there are a lot of medications available there are also lots of questions about how best to use them safely and effectively.  When I became a paediatrician I quickly realized that this is even more the case for children, in that there are many more therapeutic questions than there are answers.  My goal in research is to understand sources of variability in human drug response so that we can provide the safe and effective therapy – the right drug at the right dose at the right time for the right patient.
Research Summary
Our research program is an integrated approach to common and important problems in drug safety which draws on the skills of a talented and multi-disciplinary team to understand how the sources of variability in human drug response – which include variables such as age, genetic background, co-morbid diseases and other drugs – can result in patients tolerating therapy or in patients developing serious adverse drug reactions (side effects).  Our laboratory, the Drug Safety Laboratory, is the core validation laboratory for a national network of drug safety researchers, the Canadian Pharmacogenomic Network for Drug Safety, and in pursuit of these questions with respect to commonly used drugs such as antibiotics or important therapeutic agents such as cancer chemotherapy we work with collaborators and fellow research across Canada and internationally.
Research Questions
How do serious adverse drug reactions evolve and what are the determinants in who develops or does not develop a serious drug side effect?
Serious drug side effects can carry with them a significant risk of death or disability.  Our research has the potential to allow for rapid diagnosis of serious drug side effects and for planning of therapies to reduce the consequences of these side effects.
What are the genetic determinants of serious adverse drug reactions and how can these be used to guide therapy?
The ability to predict which patients are and are not at risk for serious side effects would be a major advantage for health care workers and patients, especially in the setting of serious diseases such as cancer.  We hope to able to identify the genetic determinants of serious drug side effects and use this knowledge to develop guidelines that can change how patients are cared for in pursuit of our goal of optimal safe and effective drug therapy.
Can we apply our knowledge of biochemistry and immunology to develop state of the art diagnostic platforms that can be used at point of care?
This development of point of care diagnostic approaches will provide for rapid and accurate diagnosis of important and serious diseases.  The application of this knowledge to the food safety sector has direct and immediate implications in reducing the spread of and burden from food-borne disease.
Education
MD University of Saskatchewan (1980)
Ph.D University of Toronto (1992)
Training
Pediatric Resident, Wayne State University, Detroit, MI
Fellow, Paediatric Emergency Medicine, Hospital for Sick Children, Toronto, Ont
Fellow, Clinical Pharmacology, University of Toronto, Toronto, Ont
Awards
Young Investigator of the Year Award, Canadian Society for Clinical Pharmacology, 1994
Leon I. Goldberg Young Investigator Award, American Society for Clinical Pharmacology and Therapeutics, 1996
Harvard Macy Scholar, Harvard Medical School, 1996-97
Douglas Bocking Award, Faculty of Medicine, University of Western Ontario, London 1996-97
Class of 1962 Award, Schulich School of Medicine & Dentistry, University of Western Ontario, 2006, 2007, 2008, 2009
Senior Investigator Award, Canadian Society for Clinical Pharmacology, 2008
Schulich Undergraduate Award of Excellence in Education, University of Western Ontario, 2008
Faculty Scholar, University of Western Ontario, 2009
Keynote Presentation Award, Society of Academic Emergency Physicians, 2009
Canadian Society for Pharmacology and Therapeutics Publication Award for "Genetic variations in TPMT and COMT are associated with hearing loss in children receiving cisplatin chemotherapy", Nature Genetics, 2010
Canadian Society for Pharmacology and Therapeutics Publication Award for "Reducing the pain of childhood vaccination: an evidence-based clinical practice guideline", Canadian Medical Association Journal, 2011
Publications
Contact Info
Research Office:
Drug Safety Laboratory
Robarts Research Institute
1151 Richmond Street, North
London, Ontario, Canada
N6A 5B7
 
Phone: 519-931-5777 ext. 24209
Fax: 519-931-5789
 
Clinical Office:
Section of Paediatric Clinical Pharmacology
Department of Paediatrics
Children's Hospital
268 800 Commissioner's Road
London, Ontario, Canada
N6C 2V5
 
Phone: 519-685-8293
Fax: 519-685-8156
Email: mrieder@uwo.ca