Geoffrey Ng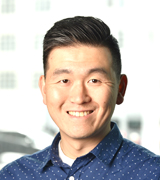 Scientist
Assistant Professor, Medical Biophysics, Medical Imaging, Surgery


Why I Became a Scientist
Curiosity. Rigour. Passion. For Science. That combined with the feeling I get when just only scratching the surface and needing to find out more. I think the human body is an incredible work of art – where the musculoskeletal system has been so well studied, yet we still do not really know much about it. I became a scientist to ask, to think of, and to challenge the big questions in musculoskeletal research and study the relationships between musculoskeletal structure and function.
Research Summary
A healthy and well-functioning musculoskeletal system is paramount for our population's overall health, increasing life expectancy, healthcare system, and sustainable economy. We aspire to outline a path for injury prevention and healthy aging – to examine the effects of musculoskeletal structure and function on joint loading mechanics. Our interdisciplinary research program specializes in musculoskeletal imaging, orthopaedic biomechanics, joint preservation and restoration strategies, and implant design. The comprehensive research combines novel in vivo (imaging, gait, functional metrics) and in silico research methods (musculoskeletal and finite element simulations) with in vitro testing platforms (physical joint loading and injury simulations) to characterize optimal joint loading mechanics and improve diagnosis, treatment, and injury prevention strategies.
Research Questions
What are the mechanical factors that lead to the development of hip deformities and what are the adverse effects on joint loading?
Femoroacetabular impingement (FAI, enlarged femoral head-neck or acetabular overcoverage deformity) and developmental dysplasia of the hip (DDH, insufficient acetabular coverage) constitute a large portion of adverse hip joint loading and early hip osteoarthritis. As there is a growing population of individuals with asymptomatic FAI and DDH morphologies, it is crucial to further understand the additional characteristics that contribute to symptoms and risks of joint degeneration as early as possible. This area of in vivo research examines the structural characteristics associated with hip pathologies and how they influence functional movement. Through custom imaging sequences and motion analysis protocols, we can predict injury risks and classify individuals according to their level of adverse joint loading.
How do muscles and ligaments contribute to joint stability?
Although soft tissue contributions of muscles and ligaments are fundamental to mobilize and stabilize the hip joint, it is unclear how we can incorporate them into computational models and simulations to better examine subject-specific joint mechanics and adverse loading conditions. The goal is to implement a biomechanical modelling and simulation framework to characterize subject-specific soft tissue contributions to the hip joint. This area of in silico research involves computational musculoskeletal models and finite element simulations that investigate the implications soft tissue loading on adverse joint loading. As such, muscle and hip contact forces from computational modelling are crucial to help elucidate changes in motion and function.
How can we optimize surgical techniques to preserve and restore joint function?
Since osteoarthritis as a failure mechanism has very limited options with artificial joint implants, more optimal solutions and economical alternatives need to be made available prior to ultimate joint failure. This area of in vitro research examines the hip joint's hard and soft tissue constraints towards functional mobility and stability. Through a novel robotic testing platform and physical testing methods, we examine hip joint mechanics and quantify the contributions of specific surgical procedures and deformities towards joint loading. Our work continuously advances novel surgical approaches and strategies in efforts to maximize joint function, minimize surgical complications, optimize patient outcomes and recovery, and ensure a quick and safe return for work, sports, and activities.
How do we advance 3D printing technologies for custom implants and sensors?
We can harness the technologies and fully integrate 3D printing techniques to provide patient-centric solutions for surgical guides, instrumentation, custom implants, and wearable sensors. This area of additive manufacturing work examines 3D printing technologies and bone density-specific orthopaedic implants. We continue to devise custom bone density mapping and printing scripts to determine the "best fit" for an orthopaedic implant to match the stiffness of its local bone. Through this, we are implementing stiffness-matched implants to reduce stress shielding and maintain long-term bone health.
Education
PhD (Valedictorian) in Mechanical Engineering, University of Ottawa (2017)
MASc in Biomedical Engineering, University of Ottawa (2011)
BScEng (Hons), Mechanical Engineering with Professional Internship, Queen's University Canada (2007)
Training
Research Associate in the MSk Lab, Surgery and Cancer, Imperial College London, UK (2019-2021)
Research Associate in the Biomechanics Group, Mechanical Engineering, Imperial College London UK (2016-2019)
Awards
Arthroscopy Journal, Excellence in Basic Science Research Award (2021)
Orthopaedic Research Society, Implants Section Best Podium Award (2021)
Orthopaedic Research Society, New Investigator Recognition Award (2019)
Canadian Orthopaedic Foundation, Canadian Orthopaedic Research Legacy Award (2019)
American Academy of Orthopaedic Surgeons, Kappa Delta Elizabeth Winston Lanier Award (2018)
BioMedEng Conference, OATech+ Network Presentation Prize (2018)
British Hip Society, McKee Prize for Best Paper (2018)
British Orthopaedic Research Society, Andrew Sprowson Award for Translational Research (2018)
University of Ottawa Faculty of Engineering, Valedictorian "Major de Promotion" (2017)
Orthopaedic Research Society, Best Poster Teaser Presentation (2016)
Canadian Medical and Biological Engineering Society Conference, Most Outstanding Paper Award (2013)
Publications
My Bibliography
ORCID
Google Scholar
Contact Info
K.C. Geoffrey Ng, PhD
Robarts Research Institute
Western University
1151 Richmond Street North
London ON N6A 5B7 Canada
Phone: 519-661-2111 x 87436
Email: gng@robarts.ca