Excellence in Sensorimotor Neuroscience
Excellence in Sensorimotor Neuroscience
Robarts Scientist, Andrew Pruszynski, PhD, was renewed as a Canada Research Chair for continued excellence in neuroscience.
Celebrating its 20th anniversary this year, the CRC program invests up to $295-million annually to attract, support and retain some of the world's most outstanding scholars and scientists, including researchers in the early stages of their careers as well as those who have already made significant contributions in their fields. Chairholders pursue research excellence in engineering and the natural sciences, health sciences, humanities and social sciences.
Chairholders with Tier 1 designation are acknowledged as leaders already making noteworthy impact in their fields; Tier 2 chairs are exceptional emerging researchers recognized for their potential to lead in their fields.
Andrew Pruszynski, CRC (renewal) in Sensorimotor Neuroscience at the Schulich School of Medicine & Dentistry (Tier 2 CRC, funded by CIHR)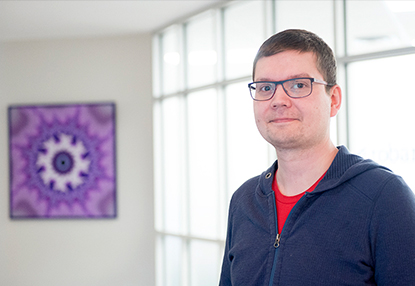 Movement usually appears effortless, but it actually requires complex interactions between brain and body. Pruszynski's research aims to explain how the nervous system handles and exploits these interactions when reaching, grasping and manipulating objects. Addressing these neural mechanisms under naturalistic conditions is essential to the understanding of sensorimotor function and may lead to better treatment of traumas and diseases such as stroke and peripheral nerve injury that can fundamentally disrupt these interactions and dramatically impair movement.
Pruszynski's renewal was announced along with four Western faculty members who were named Canada Research Chairs  for their global leadership in the fields of mental health, archaeology, materials science and lifelong mobility.