Temerty Foundation gift strengthens ALS research
Temerty Foundation gift strengthens ALS research
Tens of thousands of ALS patients and their caregivers could see their lives improve thanks to a $2.5-million gift from the Temerty Foundation.
Designed to support and advance Amyotrophic Lateral Sclerosis (ALS) research at the Schulich School of Medicine & Dentistry and Robarts Research Institute, the gift has researchers poised to make greater advances in ALS treatments than ever before.
The funds will be used to establish the Temerty Foundation RGNEF Research Fund for ALS and implement a three-year study with an international team of researchers collectively led by Dr. Michael J. Strong out of his lab at Robarts.
"We have made major advances in our understanding of ALS and reached a point in our research that heralds a new era in the development of a specific treatment," Dr. Strong said. "The future of this type of work is dependent on support and generosity like that of the Temerty Foundation. This gift enables us to continue moving forward, hopefully to the great benefit of society."
Dr. Strong, who has published more than 165 peer-reviewed articles and won multiple international awards for his ALS research, will lead experts from Canada, the United States and Italy. The international collaboration will focus its work on the role of specific proteins in helping to stop the degeneration of individual motor neurons, which are responsible for driving the function of muscle.
The team will work towards the development of treatment models and therapeutic trials that could improve the lives of, and provide relief for, tens of thousands of ALS patients and caregivers worldwide. The work could also lead to enhanced clinical practice guidelines that improve patient care across the province and around the globe.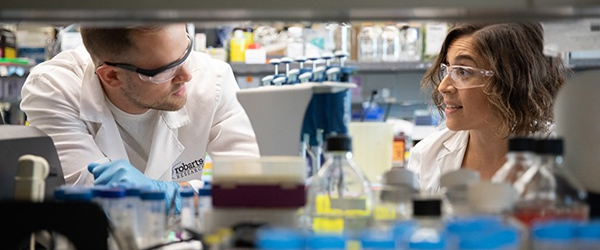 Combined with a previous $5-million donation in 2014, the gift brings the Temerty Foundation's total investment in Western to $7.5 million, making them one of the most generous donors to the Be Extraordinary Campaign.
"We have always looked for opportunities to make a difference by supporting the best research at the best institutions," said Jim Temerty, founder and chairman of Northland Power Inc. "We're thrilled to invest in Western's outstanding ALS research and foster international collaboration to further strengthen the team."
ALS – also known as Lou Gehrig's disease – remains one of the most devastating diseases of our time. Affecting individuals in the prime of their lives, the disease process underlying ALS leads to a profound, progressive loss of all muscle bulk and control. Those diagnosed typically have an average life expectancy of just three to five years. To date, there are no therapies to arrest or even slow its progression.