Matthew Teeter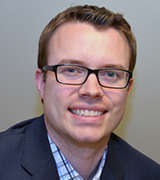 Scientist



Why I Became a Scientist
Growing up, I was always interested in the world around me and especially in how the human body functioned in health and in disease. This led me to study biomedical science as an undergraduate student, and I also started working in the labs of researchers across many health disciplines. While taking a course in human anatomy, I became particularly interested in the function of the musculoskeletal system, and through a research project was exposed to medical imaging. Coming to Western University for my graduate training was a perfect linkage between these two. Now I am fortunate to work as an independent scientist in close collaboration with orthopaedic surgeon colleagues to apply imaging in evaluating and developing devices for treating musculoskeletal disorders such as osteoarthritis.
Research Summary
Arthritis is a chronic disorder that causes severe long-term pain and disability for more than 4.6 million Canadian adults and costs the Canadian economy over $33 billion per year. Significant scientific effort continues on finding ways to delay, prevent and reverse arthritis. Unfortunately, the reality for today and the near future is that the most reliable treatment for advanced arthritis of the knee and hip is replacement of the joint with an artificial implant. The number of joint replacements performed in Canada already exceeds 100,000 per year, and within the next two decades will grow by a factor of two for hips, seven for knees and sixteen for shoulders.
The overall focus of my research is to apply medical imaging tools to evaluate implants and surgical techniques used in total joint replacement. Recently this has expanded to include the design of novel implants, components and instruments (especially designs based on patient imaging), and manufacturing of these devices using 3D printing technology. My goals are to use quantitative imaging methods to answer important clinical questions, and to develop novel technologies (both in imaging and devices) that will improve patient outcomes.
Research Questions
How does surgical technique affect the function of joint replacement implants?
Surgeons have many choices in implanting an artificial joint, including where to perform the incision, how to balance the soft tissue surrounding the joint, and which method of fixation is used to hold the implant in place. To determine the optimal approach for implant function and longevity, we use cutting edge imaging to evaluate implant performance within the patient's joints. This includes stereo x-rays to track implant micromotion over time, video x-rays to examine contact between implant components during motion and weight-bearing peripheral CT scans to measure implant alignment.
How does implant design affect wear and tribocorrosion in total joint replacement?
Artificial joints have a finite lifespan, succumbing to loosening or wearing out after an average of 10-20 years of implantation, which may be too short for younger patients. New implants are constantly being introduced to increase implant longevity, functionality, and patient satisfaction. Unfortunately, not all new implants will truly be improvements, and some can even be detrimental to patient safety. Failed devices retrieved at the time of revision surgery offer a unique opportunity to study how the implant is performing within the body and correlate this to implant, patient, and surgical factors. We utilize Canada's first and largest collection of retrieved implants (more than 3,000 artificial hips, knees, and shoulders) to identify factors that are favorable or detrimental to implant function.
Education
Ph.D. Medical Biophysics, Western University (2012)

B.Sc. (Hon) Biomedical Science, University of Guelph (2008)
Training
Faculty Mini Fellowship, University of Florida (2015)

Postdoctoral Fellow, London Health Sciences Centre (2014)
Awards
CIHR New Investigator Award (2016-2021)

Ontario Early Researcher Award (2016-2021)

John Charles Polanyi Prize for Physiology/Medicine (2015)

Mark Coventry Award for Best Science Paper (The Knee Society) (2012)
Publications
Teeter MG, Thoren J, Yuan X, McCalden RW, MacDonald SJ, Lanting BA, and Naudie DD. Migration of a cemented fixed-bearing, polished titanium tibial baseplate (Genesis II) at ten years: a radiostereometric analysis. Bone Joint J, 2016 May;98-B(5):616-21.

Yuan X, Lam Tin Cheung K, Howard JL, Lanting BA, and Teeter MG. Radiostereometric analysis using clinical radiographic views: validation measuring total hip replacement wear. J Orthop Res, 2016.

Tan SC, Lau A, Del Balso C, Howard JL, Lanting BA, and Teeter MG. Trunnionosis: Ceramic versus cobalt-chromium heads in total hip arthroplasty. J Arthroplasty, 2016.

Pang HN, Naudie DD, McCalden RW, MacDonald SJ, and Teeter MG. Highly crosslinked polyethylene improves wear not damage in retrieved acetabular liners. Clin Orthop Rel Res, 2015 Feb;473(2):463-8.

Teeter MG, Seslija P, Milner JS, Nikolov HN, Yuan X, Naudie DDR, and Holdsworth DW. Quantification of in vivo implant wear in total knee replacement from dynamic single plane radiography. Phys Med Biol, May 2013, 58(9):2751-2767.

Teeter MG, Naudie DDR, McErlain DD, Brandt JM, Yuan X, MacDonald SJ, and Holdsworth DW. In vitro quantification of wear in tibial inserts using microcomputed tomography. Clin Orthop Rel Res, January 2011, 469(1):107-112.
Contact Info
Matthew Teeter, PhD
Scientist, Robarts Research Institute
Western University
London, Ontario
N6A 5B7
Phone: 519-685-8500 ext. 34957
Email: matthew.teeter@lhsc.on.ca