Stephen Pasternak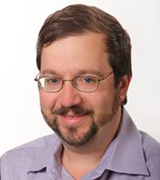 Scientist
Assistant Professor, Dept of Clinical Neurological Sciences
Why I Became a Scientist
I was drawn to neuroscience by the immensity of the scientific problems.  I focused on Alzheimer's disease because of the toll it takes on my patients.
Research Questions
Characterizing the trafficking of the Amyloid Precursor Protein and it's interactions with the enzymes which generation of beta amyloid.
Beta-amyloid which is the toxic protein that deposits in the brains of Alzheimer's disease patients and may cause Alzheimer's disease. It is made by cleavage of the Amyloid Precursor Protein.  By understanding how beta- amyloid is made, we hope to understand the develop treatments for Alzheimer's disease.
Identifying MRI markers of Alzheimer's disease.
Currently there is no diagnostic test for Alzheimer's disease and no way to know who will get Alzheimer's disease.  We hope to develop techniques to diagnose
Education
S.B. Degree in Chemical Engineering in June 1987, Massachusetts Institute of Technology
S.B. Degree in Life Sciences in June 1987, Massachusetts Institute of Technology
M.D., C.M. degree June 1995, McGill University Faculty of Medicine
Ph.D. Degree, Department of Neuroscience, May 1994 , McGill University Faculty of Medicine.
Training
Neurology Training Program (Residency)  Oct 1, 2000, University of Toronto Faculty of Medicine, Toronto, ON
Clinical Fellowship, Clinical Investigator Training Program, Oct  2000- October 2002, University of Toronto, Toronto, ON 
Research Associate with Drs. Don Mahuran and John Callahan. October 2000 - December 2003, Hospital for Sick Children Research Institute, Toronto, ON
Publications
Jesso S, Morlog D, Ross S, Pell MD, Pasternak SH, Mitchell DG, Kertesz and Finger EC. The effects of oxytocin on social cognition and behaviour in frontotemporal dementia. Brain. 2011 Sep;134(Pt 9):2493-501.

Suchy M, Ta R, Li AX, Wojciechowski F, Pasternak SH, Bartha R, Hudson RH. A paramagnetic chemical exchnage-based MRI probe metabolized by cathepsin D: design, synthesis and cellular uptake studies. Org Biomol Chem. 2010 Jun 7;8(11):2560-6.

Lorenzen A, Samosh J, Vandewark K, Anborgh PH, Seah C, Magalhaes AC, Cregan SP, Ferguson SS, Pasternak SH. Rapid and direct transport of cell surface APP to the lysosome defines a novel selective pathway. Nol Brian. 2010 Apr;3:11.

Young KF, Pasternak SH, Rylett RJ. Oligomeric aggregates of amyloid beta peptide 1-42 activate ERK/MAPK in SH-SY5Y cells via the alpha7 nicotinic receptor. Neurochem Int. 2009 Dec;55(8):796-801.

McKillop WM, Barrett JW, Pasternak SH, Chan BM, Dekaban GA. The extracellular domain of CD11d regulates its cell surface expression. J Leukoc Biol. 2009 Oct;86(4)851-62.

Li AX, Hudson RH, Barrett JW, Jones CK, Pasternak SH, Bartha R. Four-pool modeling of proton exchange processes in biological systems in the presence of MRI-paramagnetic chemical exchange saturation transfer (PARACEST) agents. Magn Reson Med. 2008 Nov;60(5):1197-206.

Pasternak SH. Demonstration of Gamma Secretase Proteins in Mouse Brain Lysosomes Using Free Flow Electrophoresis.  Alzheimer's Disease: New Advances.  Iqbal, K. Winblad, B, Avila, J. Eds. 2006 P.501-506.

Pasternak SH, Callahan JW. and Mahuran DM. The role of the endosomal/lysosomal system in beat-amyloid production and the pathophysiology of Alzheimer's disease:  re-examining the spatial paradox from a lysosomal perspective.  Journal of Alzheimer's Disease, 2004 Feb;6(1)53-65.
Contact Info
Research Office:
Molecular Medicine
Robarts Research Institute
1151 Richmond Street, North
London, Ontario, Canada
N6A 5B7

Phone: 519-931-5294
Clinical Office:
Director, Cognitive Neurology and Alzheimer Research Centre
St. Joseph's Health Care London / St. Joseph's Hospital
Department of Cognitive Neurology and Alzheimer Research Centre
Monsignor Roney Building, Suite D0-224
268 Grosvenor Street
London, Ontario, Canada
N6A 4V2
Phone: 519-646-6032
Fax: 519-646-6226
Pager: 519-680-8312
Email: spasternak@robarts.ca