Lena Palaniyappan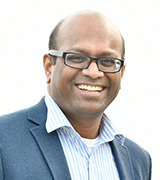 Scientist
Why I Became a Scientist
Training as a psychiatrist, I was struck by how little we know about the human brain and the mental phenomenon that is produced by it. This led me to conversations with some eminent scholars in neuroscience, psychology and mental health, who inspired me further into the study of the brain. At some point, I became convinced that I could make a career out of asking questions.
Research Summary
An impressively wide range of tools are available to observe and measure the human brain. It is now possible to study the finer aspects of the brain's architecture – its curvatures, connections and chemistry – without causing much discomfort to patients. This readily available information can be harnessed to change our understanding of mental illnesses and the way we treat psychiatric ailments. Our group's work is focused on utilizing neuroscience to the benefit of patients and clinicians fighting mental illnesses.
Research Questions
Developing tools to predict outcome after first-episode psychosis.
Understanding the brain mechanism behind mental states, such as depression, mania and hallucinations.
Developing non-invasive treatment approaches to reduce the severity of psychiatric disorders.
Psychiatric disorders such as psychosis and depression are one of the largest contributors to human suffering across the globe. This large burden is attributed to two vicious aspects of many psychiatric disorders: (1) they start at a young age and (2) they are recurrent in nature.  My group utilizes state-of-art neuroimaging facilities available in London at Robarts Research Institute to enhance the clinical benefits achieved via early intervention.
Education
M.D., Stanley Medical College

MMedSci, Clinical Psychiatry

Ph.D., University of Nottingham
Training
Psychiatry Residency Program, Royal College of Psychiatrists 

Academic Clinical Fellow, Newcastle University
Publications
Palaniyappan L, Dempster K, Luo Q. A brain network-based grading of psychosis: Could resting functional magnetic resonance imaging become a clinical tool? JAMA Psychiatry 2017 June; 74(6):613-614.

Palaniyappan L. Progressive coritical reorganisation: A framework for investigating structural changes in schizophrenia. Neuroscience & Biobehavioral Reviews 2017 Aug;79:1-13.

Iwabuchi S, Raschke F, Auer DP, Liddle PF, Lankappa S, Palaniyappan L. Targeted transcranial theta-burst stimulation alters front-insular network and prefrontal GABA. NeuroImage 2017 Feb; 146:395-403.

Palaniyappan L, Marques TR, Taylor H, Mondelli V, Reinders AA, Bonaccorso S, Giordano A, DiForti M, Simmons A, david AS, Pariante CM, Murray RM, Dazzan P. Globally efficient brain organization and treatment response in psychosis: A connectomic study of gyrification. Schizophrenia Bulletin 2016 Nov;42(6):1446-1456.

Palaniyappan L, Mahmood J, Balain V, Mougin O, Gowland PA, Liddle PF. Structural correlates of formal thought disorder in schizophrenia: An ultra-high field multivariate morphometry study. Schizophrenia Research 2015 Oct;168(1-2):305-312.

Guo S, Iwabuchi S, Balain V, Feng J, Liddle P, Palaniyappan L. Cortical folding and the potential for prognostic neuroimaging in schizophrenia. The British Journal of Psychiatry 2015 Nov;207(5):458-459.

Iwabuchi SJ, Krishnadas R, Li C, Auer DP, Radua J, Palaniyappan L. Localized connectivity in depression: A meta-analysis of resting state functional imaging studies. Neuroscience and Biobehavioural Reviews 2015 Apr;51:77-86.

Palaniyappan L, Liddle PF. Diagnostic discontinuity in psychosis: A combined study of cortical gyrification and functional connectivity. Schizophrenia Bulletin 2014 May;40(3):675-684.

Palaniyappan L, Marques TR, Taylor H, Handley R, Mondelli V, Bonaccorso S, Giordano A, McQueen G, DiForti M, Simmons A, David AS, Pariante CM, Murray RM, Dazzan P. Cortical folding defects as markers of poor treatment response in first-episode psychosis. JAMA Psychiatry 2013 Oct;70(10):1031-1040.

Palaniyappan L, Simmonite M, White TP, Liddle EB, Liddle PF. Neural primacy of the salience processing system in schizophrenia. Neuron 2013 Aug 21;79(4):814-828.

Iwabuchi SJ, Liddle PF, Palaniyappan L. Clinical utility of machine-learning approaches in schizophrenia: improving diagnostic confidence for translational neuroimaging. Frontiers in Psychiatry 2013 Aug 29;4:95.

Palaniyappan L, Mallikarjun P, Joseph V, White TP, Liddle PF. Folding of the prefrontal cortex in schizophrenia: regional differences in gyrification. Biology and Psychiatry 2011 May 15;69(10):974-979.

Palaniyappan L, Liddle PF. Does the salience network play a cardinal role in psychosis? An emerging hypothesis of insular dysfunction. Journal of Psychiatry and Neuroscience 2012 Jan;37(1):17-27.
Contact Info
Robarts Research Institute
1151 Richmond Street Nth.
London, ON N6A 5B7, Canada
Room 3208
Phone: 519-931-5777 ext. 24398
Email: lpalaniy@uwo.ca