Melvyn Goodale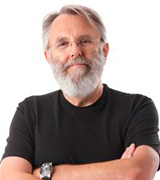 Scientist
Canada Research Chair in Visual Neuroscience
Why I Became a Scientist
I got into research entirely by accident. After finishing my undergraduate degree at the University of Alberta (in Calgary), I wasn't sure what I wanted to do -- and so, like a lot of students, I postponed making any decisions at all and went off to Europe to 'find myself'. After a year or so of traveling around taking one casual job after another and living in damp apartments with dubious roommates, I decided that perhaps it was time to consider going into graduate school back in Calgary. I had the good fortune to end up working in the lab that was studying how the brain decodes the complex array of information provided by the eyes.  I was completely captivated – and I have never looked back.  It has been a long and fascinating journey from the pokey little lab in Calgary to the state-of-the-art facilities at the Robarts. But it's a journey that I wouldn't have missed for the world.
Research Summary
My research is aimed at understanding the functional organization of visual pathways in the human brain. To do this, I study visual discrimination and the visual control of skilled movements in neurological patients with damage to different visual areas in the brain. I also use functional magnetic resonance imaging (fMRI) to look at activity in the healthy human brain as it performs different kinds of visual tasks. This work has led me to the idea that there are separate, but interacting visual systems for the perception of objects on the one hand and the control of actions directed at those objects on the other – with each system engaging quite different pathways in the human brain. Nevertheless, there is a complex but seamless interaction between the two visual pathways in the production of everyday behaviour.
Research Questions
Human beings are capable of reaching out and grasping objects with exquisite accuracy. One of our long-term research programs is aimed at understanding how the visual system enables the posture of the hand and fingers to anticipate the size, shape, and orientation of that object well before contact is made.
This work is not only providing basic information about how vision is used to control the human hand but is also helping in the design of human-machine interfaces and robotic control systems, including work on minimally invasive and robotic surgery and . It is not the first time that biology has provided engineering with some useful lessons in design.
Another project is aimed at understanding the functional organization of different visual areas in the human brain – and how they work together in the production of adaptive behaviour.  One of the powerful tools that we use in this research is functional magnetic resonance imaging or fMRI.
This work is helping to provide a new framework for understanding perceptual and visuomotor deficits in neurological patients – leading to more efficient clinical diagnosis and rehabilitation.  Recently, there has been particular interest in using the duplex model of visual organization that has emerged from this research to make sense of the confusing array of visual and visuomotor deficits accompanying periventricular leucomalacia (PVL), a common disorder in premature infants.
Education
Ph.D. University of Western Ontario (1969)

M.A. University of Calgary (1966)

B.A. University of Alberta (in Calgary) (1963)
Training
Scientist  Imaging   Robarts Research Institute (2008- pres.)

Professor  Visual Neuroscience Canada Research Chair (2001-pres.)

Professor  Physiol./Pharmacol. Univ. of Western Ontario (1999-pres.)

Professor  Psychology  Univ. of Western Ontario (1983-pres.)

C. Psych.  Neuropsychology College of Psychol. of Ontario (1980-pres.)

Assoc Professor  Psychology  Univ. of Western Ontario (1977-1983)

Lecturer  Psychology  Univ. of St. Andrews, Scotland (1972-1977)

Research Fellow Psychology  Univ. of St. Andrews, Scotland (1971-1972)

Postdoctoral Fellow Psychology  Univ. of Oxford, England (1969-1971)
Awards
 Richard C. Tees Award for Distinguished Leadership (BBCS) (2008)

Distinguished University Professor (2007)

Allen L. Edwards Lecture, University of Washington, Seattle (2007)

Kanizsa Lecture, University of Trieste, Italy (2006)

Hellmuth Prize for Scientific Achievement (2006)

Annual Book Award ("Sight Unseen" with A.D. Milner), British Psychological Society (2005)

Fellow of the Royal Society of Canada (elected 2001)

Canada Research Chair (Tier 1) in Visual Neuroscience (2001-2015)

Honorary Professor, Department of Psychology, University of Durham (2003-2006)

Alkek Lecture in Neuroscience, Rice University (2000)

Helmholtz Lecture, University of Utrecht, The Netherlands (2000)

Chair's Invited Plenary Lecture, British Neuropsychological Society, London, England (2000)

Distinguished Lecturer in Psychology, University of Alberta (1999)

Donald O. Hebb Distinguished Contribution Award (BBCS) (1999)

Cornelius Wiersma Visiting Professor of Biology, Caltech (1998-1999)

Edward G. Pleva Award for Excellence in Teaching (1994)
Publications
Sperandio, I., Lak, A., & Goodale, M.A. (2012). Afterimage size is modulated by size-contrast illusions.  Journal of Vision, 12, 18. doi: 10.1167/12.2.18.

Goodale, M.A.  (2011). Transforming vision into action.  Vision Research, 51, 1567-1587.

Thaler, L, Arnott, S.R., & Goodale, M.A.  (2011). Neural correlates of natural human echolocation in early and late blind echolocation experts. PLoS One, 6(5):e20162.

Cant, J.S. & Goodale, M.A. (2011). Scratching beneath the surface: new insights into the functional properties of the lateral occipital area and parahippocampal place area. Journal of Neuroscience, 31, 8248-8258.

Buckingham, G., Cant, J.S., & Goodale, M.A.   (2009). Living in a material world: how visual cues to material properties affect the way that we lift objects and perceive their weight. Journal of Neurophysiology, 102, 3111-3118.

Milner, A.D. & Goodale, M.A. (2006). The Visual Brain in Action. 2nd Edition. Oxford: Oxford University Press. 297pp.

Goodale, M.A. & Milner, A.D. (2004). Sight Unseen: An Exploration of Conscious and Unconscious Vision. Oxford: Oxford University Press. 135pp.
Contact Info
The Brain and Mind Institute
1151 Richmond St. North
Western University
London Ontario N6A 5B7
CANADA
Phone: 519-661-2070
Fax: 519-661-3613
Email: mgoodale@uwo.ca
Website: www.ssc.uwo.ca/psychology/faculty/goodale/